The Zumbug is a purple zebra piñata. Most of its body is covered in dark purple stripes covering a light purple body, similar to a zebra's black and white stripes.
Proving that hunches can pay off, the Zumbug is born from that extra bit of black and white in a Horstachio's diet. Given long grass, a freedom to roam provided that manes are behind bars and no other equine Piñatas to butt heads with, it'll fit in fine.
Requirements
Feeding a Horstachio a Blackberry and a Daisy turns it into a Zumbug.
Romance Requirements
Species Variants
Species conflicts
Zumbug uses
5 Zumbugs in the garden helps meet the Roario Visit requirements.
Eating 2 Zumbugs helps meet the Roario Resident requirements.
Other Information
Names make Zumbugs (and other pinatas) happier.
Animal - Zebra
Candy - Humbugs
Level - 8
Base Value - 3600 Coins
Attack - Ball and Chain
Housing Cost - 1980 Coins
A Zumbug's head will go through its house upon entering. This is a glitch.
In the TV Series
Hamilton Horstachio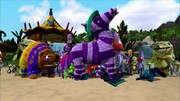 Hamilton Horstachio is a character in the Viva Piñata TV series. Featured in the episode Horstachio of a Different Color he is Hudson Horstachio's archrival. In the episode he managed to become more popular than Hudson making Hudson depressed. Hamilton enters a Horstachio competition and gets disqualified due to him transforming into a Zumbug.
Gallery
To see all media, see Zumbug/Gallery.
Community content is available under
CC-BY-SA
unless otherwise noted.