The Whirlm is a worm piñata in Viva Piñata. It is the first piñata that will be encountered in the games.
Like an actual worm, it will crawl around a garden.
The Whirlm is well known for repeatedly entering a garden and becoming a resident due to its incredibly simple visiting and resident requirements, where it only needs 10 square pinometers of soil or grass to be satisfied with a garden.
Appearance
It is very small and orange in color, with red and green markings on it. Around its eyes are lots of green triangles, and it has red eyelids and blue irises.
Requirements
Appear Requirements
Have 10 square pinometers of soil or grass (1%).
Visit Requirements
Have 10 square pinometers of soil or grass (1%).
Resident Requirements
Have 10 square pinometers of soil or grass (1%).
Romance Requirements
Species Variants
Whirlm Uses
Whirlms in the garden help meet the Sparrowmint Appear and Visit requirements.
Romancing 2 Whirlms helps meet the Sparrowmint Resident requirements.
Eating 1 Whirlm helps meet the Sparrowmint Romance requirements.
4 Whirlms in the garden helps meet the Fudgehog Visit requirements.
Eating 2 Whirlms helps meet the Fudgehog Resident requirements.
Species Conflicts
Housing
The Whirlm house is made up of a lot of connected pipes that lead to an underground den.
In the TV Series
Wilson Whirlm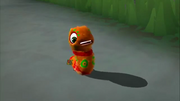 Wilson Whirlm is the central character of the TV series episode Whirlm with a Dream, in which Wilson dreams of being launched to a party. He eventually manages to get launched from the Cannoñata with a group as a whole disguised as Fergy Fudgehog.
Wendel Whilrm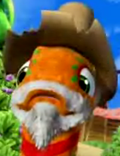 Wendel Whirlm is a major character in the TV series episode Soil and Green. He tills the land so that plants can grow in his garden.
Gallery
To see all pictures and videos about this topic, see Whirlm/Gallery.
Community content is available under
CC-BY-SA
unless otherwise noted.