Welcome to Viva Piñata Wiki, the wiki about Viva Piñata that anyone can edit!

Viva Piñata is a video game and TV franchise created by Microsoft and Rare. Its universe is a vibrant world of living piñata animals filled with spontaneity, fun, and of course candy. The colorful and unique animals live and thrive in a growing garden where they interact with each other bringing adventure to life. The piñata universe is exciting and humorous – a place where anything can happen. Piñata Island is where all the fun is at, an uncharted island full of piñatas. It's a world full of fun and imagination, and anything you want in your garden, you can have! There are over 60 different species of piñata, from the tiny Whirlms and playful Bunnycombs, to the giant Roarios and hefty Elephanillas!
We currently have 999 articles and 2,683 images/videos since December 15, 2007!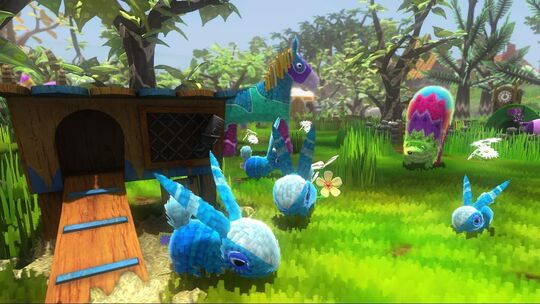 Want to create or update a page? Follow
these page exemplars
to make sure that the pages follow the correct format! Thank you for contributing to this wiki!
For an explanation on what the Viva Piñata franchise is about, see the Viva Piñata series summary page. For useful information regarding the Xbox 360 games and how they are played, visit the Gameplay page. To get informed about the television series, visit the Television series article.
This wiki has information on the Viva Piñata games, Viva Piñata, Viva Piñata: Party Animals, Viva Piñata: Trouble in Paradise, and Viva Piñata: Pocket Paradise. It also has information about the television series, such as characters, episodes, and more.
Main topics
Want to improve this site?
Anyone can edit almost any page, and we encourage you to do so (but please don't vandalize)! First, log in to Fandom, or create an account if you haven't already. While logged in you can edit pages on the wiki. Find something that can be improved, either in content, grammar or formatting, and fix it. It is easy to edit pages, and it gets even easier as you edit the wiki more. So go ahead, edit an article and help make Viva Piñata Wiki the best Viva Piñata information source on the Internet!
Looking for fanon content?
Visit the Viva Piñata Fanon Wiki, a wiki specifically designed for fan made material on the Viva Piñata franchise.
Tip of the day:
If you have too many piñatas in your garden, your piñatas will not romance. Try selling a few of your other piñatas, and see if the hearts above their heads come back, or turn back pink instead of inverted cyan.
Poll #5 of 8. See all polls.
Community links:
An admin run Discord server for this wiki can be joined at [1].
There is also an Amino community (not managed by an administrator of the Wiki).

There is also a Reddit forum (not managed by an administrator of the Wiki).