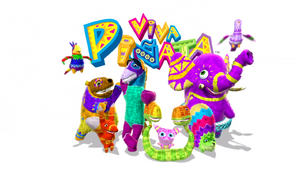 Viva Pinata is a Canadian television series first aired in the year 2006. It first premiered in the U.S. on Saturday mornings on FOX Network September 9 2006. It also appeared on television screens in the United Kingdom weekdays at 4:30pm on Nicktoons starting from March 5th 2007. Viva Piñata was featured on the 4Kids TV On Demand network on Comcast ON DEMAND as well as airing on YTV in Canada.
Unlike the game series, the television series revolves around the lives of piñata characters, who appear to be fully sapient and not only able to do human like things but also speak like humans as well. Humans other than Professor Pester do not appear as main characters, but Leafos does make a cameo appearance in the opening theme song. The series revolves around the antics of characters like Fergy Fudgehog, Hudson Horstachio, Ella Elephanilla, and Langston Lickatoad.
Animation for the television series was produced at Bardel Entertainment in Vancouver, Canada. It was produced in 480p and 16:9 aspect ratio, however, as it was created during the transition to 16:9 most episodes were only aired in 4:3 aspect ratio initially.
Each episode is listed on the List of Viva Piñata episodes article.
Cast
Dan Green: Hudson Horstachio, King Roario
Marc Thompson: Franklin Fizzlybear
Brian Maillard: Paulie Pretztail
David Wills: Fergy Fudgehog, Boris Buzzenge
Kathleen Delaney: Tina Twingersnap
Jamie McGonnigal: Teddington Twingersnap
Eric Stuart: Les Galagoogoo, Pecky Pudgeon, Flex Fudgehog
Rebecca Soler: Ella Elephanilla, Simone Cinnamonkey
Mike Pollock: Langston Lickatoad
Michael Alston Baley: Professor Pester
Pete Zarustica: Pierre Parrybo
Scottie Ray: Marvin Mallowolf
Sean Schemmel: Hamilton Horstachio, Chortles Chippopotamus
Mike MacRae: Prewitt Profitamole
Darren Dunstan: Mongo Macaracoon
Seiko Suzuki Shih: Petunia Pretztail
Liza Jacqueline: Leafos
External Links
Trivia
Leafos makes reference to the TV series in the game: "When I look at the piñatas, I can almost hear them talking. I bet you could make a show about some piñatas having adventures."