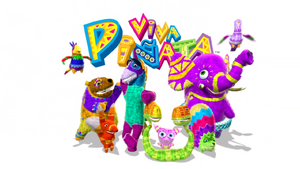 Viva Pinata is a Canadian television series first aired in the year 2006. Premiering in the U.S. on Saturday mornings on FOX Network September 9 2006, the Viva Piñata computer animated cartoon comedy television series follows the high-energy adventures of a cast of living piñata animals in a vibrant world where anything and everything can happen. The animals have action-packed adventures and survive the trials and tribulations of being piñatas.
Animation for the television series is being done at Bardel Entertainment in Vancouver, Canada.
Viva Piñata was featured on the 4Kids TV On Demand network on Comcast ON DEMAND as well as airing on YTV in Canada. It also appeared on television screens in the United Kingdom weekdays at 4:30pm on Nicktoons starting from March 5th 2007.
It was produced in 16:9 aspect ratio, however, as it was created during the transition to 16:9 most episodes were only aired in 4:3 aspect ratio initially.
Each episode is listed on the List of Viva Piñata episodes article.
Series Synopsis
In a lovely garden on the beautiful (and never officially charted) Piñata Island, a multitude of happy, colorful Piñata species live and frolic and dance (Piñatas love to dance) and grow and (in some cases) develop deep-seated neuroses. The Piñatas live to fill themselves full of the most delicious candies a child could ever want, and they eagerly await the glorious day when they're chosen by the Piñata Factory to "attend" birthday parties, bar mitzvahs, retirement parties and other special celebrations all over the world!
Cast
Dan Green: Hudson Horstachio, King Roario
David Wills: Fergy Fudgehog, Boris Buzzenge
Brian Maillard: Paulie Pretztail
Marc Thompson: Franklin Fizzlybear
Kathleen Delaney: Tina Twingersnap
Jamie McGonnigal: Teddington Twingersnap
Rebecca Soler: Ella Elephanilla, Simone Cinnamonkey
Eric Stuart: Les Galagoogoo, Pecky Pudgeon, Flex Fudgehog
Mike Pollock: Langston Lickatoad
Michael Alston Baley: Professor Pester
Pete Zarustica: Pierre Parrybo
Scottie Ray: Marvin Mallowolf
Sean Schemmel: Hamilton Horstachio, Chortles Chippopotamus
Mike MacRae: Prewitt Profitamole
Darren Dunstan: Mongo Macaracoon
Seiko Suzuki Shih: Petunia Pretztail
Liza Jacqueline: Leafos
External Links
Many piñatas were beaten during the production of this television series
Trivia
Leafos makes reference to the TV series in the game: "When I look at the piñatas, I can almost hear them talking. I bet you could make a show about some piñatas having adventures."
Community content is available under
CC-BY-SA
unless otherwise noted.