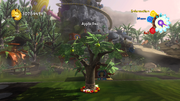 A tree is a type of plant that can be grown in the garden which grows fruits such as apples. There are many kinds of trees, including the Apple Tree, the Banana Tree, and the Hazelnut Tree, with each tree growing a different type of fruit. They live indefinitely after being grown. Generally, they grow slower than a flower and need more water to grow completely.
Unlike most other types of plants, Fertilizer must be applied at certain times of growth for the correct color fertilizer to work and add branches to the plant. A higher amount of branches increases how much fruit the tree can bear and grow at once. In Viva Piñata: Pocket Paradise, trees and bushes cannot be fertilized.
Trees cannot be destroyed using the shovel unless the shovel has been upgraded with the Treecutter Shovel Head or a superior shovel head.
Bushes
Bushes are a type of plant that are similar to trees, but grow berries instead of fruit, and will eventually shrivel up and die after a few days.
List of Trees
| Image | Species | Journal Information | Level | Value | Produce |
| --- | --- | --- | --- | --- | --- |
| | Apple Tree | Lots of creatures like to eat apples, and this is the most efficient way to get them fresh. This tree may be small, easy to grow and cheap to get hold of, but it is worth its weight in apples! | 2 | 30 | Apple |
| | Banana Tree | This tropical tree is loaded with delicious yellow bananas. You know which Piñatas love bananas, right? Well, you better grow this tree if you want to see them. | 7 | 280 | Banana |
| | Fir Tree | Tall and elegant, the fir tree can withstand arctic conditions. The cones it produces are equally tough, so only desperate animals or those with the sharpest teeth can eat them. | 4 | 100 | Fir Cone |
| | Gem Tree | This tree is unique to Piñata Island, and instead of fruit, it grows minerals - more specifically gems. If you ever wanted a tree that grows money, then this is the closest you can get! | 8 | 360 | Gem |
| | Hazel Tree | If you want nuts, you should grow this little tree. It'll give you nuts and then some. When you have nuts, the Piñatas that like nuts will appear - they may even stay, just because you have nuts. Crazy! | 3 | 60 | Hazelnut |
| | Monkeynut Tree | Just look at the branches on this strange little tree. They look like the bars of a climbing frame, and growing on the end of each branch are the tasty little nuts that drive some Piñatas wild! | 6 | 210 | Monkeynut |
| | Oak Tree | The most impressive, mighty and enormous tree you will ever see in your garden. Be warned that you need patience, care and lots of water before you will ever see the oak at its full potential. | 10 | 550 | Acorn |
| | Orange Tree | This is a nice little tree famous for its delicious, juicy fruit. I'd suggest that you don't mix this tree and Quackberries in your garden, as they tend to get the wrong idea. I don't even like Quackberry a l'orange[sic] much. Well, I like it less than steak and kidney pie... that Moozipan didn't hear that, did it? | 5 | 150 | Orange |
| | Palm Tree | This tree makes any garden a tropical paradise. Although called a palm tree, it doesn't grow palms, so don't go waiting for the palm harvest. For safety reasons, you should wear a hard hat when under the branches. | 9 | 450 | Coconut |
List of Bushes
| Image | Species | Journal Information | Level | Value | Produce |
| --- | --- | --- | --- | --- | --- |
| | Blackberry bush | Little blackberries can be sweet and juicy, and there are many Piñatas who will want to visit you when you have them in the garden. Growing a whole bush will keep them coming back for more. | 3 | 60 | Blackberry |
| | Blueberry Bush | There aren't many blue foods. In fact, most blue things are not very appetizing. However, blueberries are different - they grow on this little bush and will no doubt help you to attract new varieties of Piñatas. | 5 | 150 | Blueberry |
| | Gooseberry bush | I don't know if you've ever looked at a gooseberry, but it's green and a little furry. Why is it called a gooseberry? I really don't know, perhaps it's something you could find out? | 4 | 100 | Gooseberry |
| | Holly bush | Amidst the dark green, waxy leaves grow some very tasty little red berries. Ideal for the smaller Piñatas that live in colder parts of the Island. | 2 | 30 | Holly Berry |
| | Nightshade bush | This little bush is dark and mysterious. It's recommended that you keep well away from its berries, because they are poisonous. If you know what you're doing, the nightshade bush can make a pretty addition to your garden. | 6 | 210 | Nightshade Berry |