Tina and Teddington Twingersnap are two Syrupent characters attached to the same body. They share a body (and a love-hate relationship). The one on the right with blue eyes, Teddington is a blue-blooded wannabe and considers himself a member of the upper crust elite. Tina, the one on the left with red eyes, usually never agrees with her brother and loves adventures and being tough. She is the more down-to-earth lowbrow of the two.
The fact that they share the same body and their differences in general end up making them argue over most things. Also due to their differences their house has a comical split halfway, one half is grassy and the other more like an actual house.
Episodes
Twingersnapped!
Tina and Teddington Twingersnap get snapped into two halves by a piece of paper.
Quotes
IT WAS THE GOOBAAS! THE GOOBAAS!!!!
Rough, Tina! ROUGH!! ROUGH ROUGH ROUGH ROUGH!!!!
They're so awful they even make us agree!
Gallery
Opposite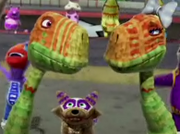 Tina and Teddington (mirrored) Tina, the one on the left, always agrees with his sister and loves adventures and being tough. Teddington, the one with the bow, is very sophisticated and shares also the love-hate relationship.
Community content is available under
CC-BY-SA
unless otherwise noted.