The Smelba Home is a building that is the house of the Smelba. It serves as a hideout from predators, a place for Smelbas to sleep, and a place for them to Romance.
Appearance
It is a pink perfume bottle shaped building with a large opening in the front. There are darker pink patterns on the building, such as three dark stripes on the left and right sides of the building. There is a green Smelba sign on top of the bottle, attached to a golden base.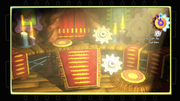 The inside of the Smelba Home is not as fancy as the outside, having wooden floors, and a higher wooden floor platform connected by a ramp with a red rug with yellow stripes. More similarly designed rugs can be seen on the wooden platform. Three steel gears are littered around the right side of the visible area. Two hay nest beds can be seen, one on the higher platform, and one on the lower floor. Four tall wax candles with lit flames can be seen, two blue, and two purple. On the wall, three paintings are hung depicting the Macaraccoon, the Sweetooth, and the Mousemallow.
Due to a mip-maping glitch, the back of the green sign on the Smelba Home has a pink line that stretches across the back of the sign, which becomes invisible when the camera zooms in to it close enough.