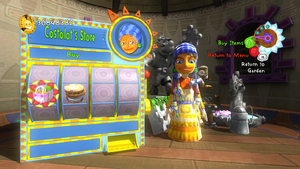 There are a total of eight shops found in the village in Viva Piñata and Viva Piñata: Trouble in Paradise, and four in Viva Piñata: Pocket Paradise, and each one serves a different purpose. Chocolate Coins are the currency used to purchase services and items in those stores, and is what you get by selling items to Lottie.
In Viva Piñata: Pocket Paradise you can tap the shop owner with the stylus and they will react physically and say a negative quote, such as "Don't touch what you can't afford, my friend!" with Lottie.
List of Shops
Community content is available under
CC-BY-SA
unless otherwise noted.