Shirley Shellybean is a character found in the Viva Piñata TV series. She is the slowest Piñata on the island, but she doesn't seem to be aware of her extreme and near-complete lack of speed. Many times Shirley and the gang will start out on an adventure together, but pretty quickly the others have left her far behind, and by episode's end, Shirley has only just barley moved a few feet, still enthusiastically chattering, "C'mon gang! Let's get this show on the road!"
Episodes
Confetti-itis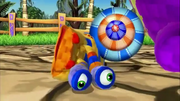 After drinking too much "Shed-No-More" in Confetti-itis she becomes very fat, and due to her weight she turns over on her side. She, Franklin, and all of the other piñatas involved had to stop drinking it to return to normal size.
Shirley Shells Out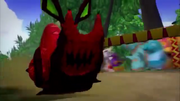 She participates in the race, and drinks a sour drink offered by Professor Pester which transforms her into a Sour Shellybean. She ends up breaking the sound barrier due to the Sour transformation and obtains an extreme lead over the other racers. However, near the end she starts transforming back into normal, which causes her to start to slow down. She ends up losing to Pecky Pudgeon who ends up tearing up the finishing tape trying to take a picture of her.
Quotes
Slow? I prefer sluggish.
Wide load!
Gallery