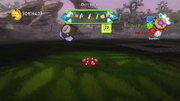 A seed is an un-grown plant that when placed gradually ages into a fully grown plant. Seeds are tiny objects that grow into plants, flowers, trees, bushes, and vegetables. Seeds are the foundation of a growing garden, as without planting seeds, advanced piñata species cannot be attracted to the garden.
Buying the seeds to plant a vegetable or a fruit bearing tree or bush works is cheaper than buying the fruits and vegetables from Costolot's Store, though of course this requires waiting for fruit to be produced from the tree or for the vegetable to be fully grown. In addition, it is not possible to get a max size vegetable unless it is grown in a garden. A profit can be earned by only using some of the fruits and vegetables and selling everything else. The same goes for produce. Of course, vegetables can be planted for the sole reason of selling Chocolate Coins.
Seeds can be manually planted, but they will automatically plant themselves if left out in the open for a significant amount of time. The seeds of Weed plants will plant themselves very quickly if left unattended, which can be hard to manage. Planting a seed in a seed hole will make the plant grow significantly faster than normal.
List of Seeds
Nightshade Seed
Oak Seed
Orchid Seed
Community content is available under
CC-BY-SA
unless otherwise noted.