The Raisant is a small red ant piñata. Its antennae are orange, and it has brown irises. It has six arched yellow legs, and an orange pattern on its face.
Perhaps the easiest prey on Piñata Island, Raisants are an easy meal for everything from Arocknids to Fizzlybears. But they deal with it well, chewing bits of fruit and taking it all out on Buzzlegums occasionally. It takes quite a while to get one.
Requirements
Appear requirements
Visit requirements
There is 1 fruit tree of any kind in the garden.
Resident requirements
Has eaten 3 fruit of any kind.
Romance requirements
Species variants
Species conflicts
Raisant uses
Tricks
Feed Raisants a buttercup flower for the first trick and a toffee apple for the second trick.
Other information
Raisants can climb trees.
If you plan on having fruit trees in the garden, it would be advised not to have 6 or more Buttercups in the garden. This is to prevent Buzzlegums from coming in and starting fights. Even if you have Dragumflys you want to romance.
In the TV Series
Raisants in the TV series are depicted to be extremely small creatures about the size of an actual ant.
Rodney Raisant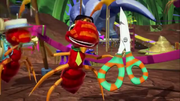 Rodney Raisant is a character in the Viva Pinata TV series. He is the owner of RodneyLand, a theme park for Raisants.
Gallery
To see all media, see Raisant/Gallery.
Community content is available under
CC-BY-SA
unless otherwise noted.