The Quackberry is a green duck piñata. Its beak is yellow, and it has brown irises. It has a pointy little tail, small green wings, a white and green pattern on its belly, and yellow feet. It has a slight cowlick on the back of its head.
Quack! Once you're done at the pond you can experience a Quackberry! Well you can, if you have 30 square pinometers of water. Then you'll have one appear. If you want one to visit than get up to 40 square pinometers and a stalk of corn. Once it's in just make that corn into a piece of bread and feed it to the lovable duck. All yours! Don't forget to sprinkle water on it. To romance dance it feed it a couple of bluebell. Feed it a gooseberry to make it a Juicygoose. Just keep Quackberries away from Swananas and Juicygeese.
Requirements
Appear requirements
Visit requirements
Have 1 corn plant in the garden
You have 40 square pinometers of water (4%)
Resident requirements
You have 40 square pinometers of water (4%)
Has eaten 1 piece of bread
Romance requirements
Species variants
Evolutions
Happiness tips
Using your watering can on the Quackberry increases its happiness.
Species conflicts
Quackberry Uses
In the TV Series
Dr. Quackberry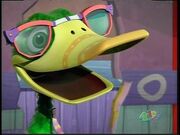 Dr. Quincy Quackberry is a major character of the Viva Piñata TV series. He is a psychologist and is commonly seen dealing with other piñatas' health issues.
Gallery
Community content is available under
CC-BY-SA
unless otherwise noted.