The Pudgeon is a domestic purple pidgeon piñata. You can buy it for 2310 chocolate coins at Miss Petula's Paper Pets shop in the village once you are a level 18 gardener.
Fairly advanced in some ways (its homing instinct and photography ambitions) but less so in others (its toilet habits and inability to avoid becoming Buzzenge food), the domestic Pudgeon is an acquired taste.
Requirements
Appear requirements TIP
Have 5 corn seeds in the garden.
Unblock requirements TIP
Visit requirements TIP
Have 5 seeds of any kind in the garden.
have 1 loaf of bread in the garden.
Resident requirements TIP
has eaten 3 seeds.
has eaten 1 loaf of bread.
have a bear and bird statue in the garden.
Romance requirements
Trick requirements
Variants
Feeding it a bluebell changes its color to blue.
Feeding it blackberry jam changes its color to purple.
Feeding it a gooseberry seed changes its color to green.
Wild cards
Wild card 1: Horns
Wild card 2: Heathers under the eyes
Wild card 3: Head feathers
Pudgeon uses
Feeding it to a Buzzange helps meet romance requirements
Extra information
Pocket paradise
the only working colour variant is purple
Happiness tips
feeding it a sunflower seed will greatly increases happiness
Pudgeons do not like to be watered or trampled
In the TV Series
Pecky Pudgeon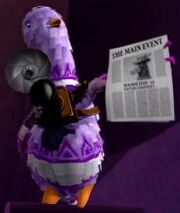 Pecky Pudgeon is a major character of the Viva Piñata TV series. Pecky Pudgeon is an award-winning news reporter for the Piñata Island newspaper "The Piñata Yada-Yada". He is one of the hosts of the Party Animals Championship Challenge along with Pierre Parrybo, and also the host of the annual Piñata Island Dance Competition. He commonly wears the Reporter's Camera accessory along his neck.
Gallery
Community content is available under
CC-BY-SA
unless otherwise noted.