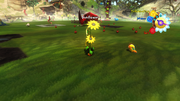 A plant is a living object that can be grown in the garden by planting a seed. There are multiple types of plants, including flowers, weeds, trees, vegetables, and bushes. Most plants when fully grown result in a resource that can be eaten by piñatas, such as fruit, a vegetable, or a flower head.
Plants that aren't fully grown require the use of water to ensure that the plant grows completely. To do this the Watering can is utilized to water a plant. Rain can also water the plant, or Sprinklings can be hired to do the task of watering the plant during the day. When the plant is fully grown the plant does not need to be watered anymore.
Plants can be fertilized using a certain color of Fertilizer, or Cocoadile tears or the Special Mix Fertilizer, which will make them grow larger, or grow more branches and make them more valuable. Most types of plants will cease to live after a certain amount of time and leave behind seeds, and flower heads if the plant is a flower, except for trees which will survive indefinitely.
Community content is available under
CC-BY-SA
unless otherwise noted.