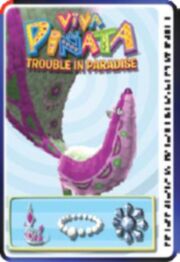 Piñata Vision is a new gameplay mechanic in Viva Piñata: Trouble in Paradise. It is used to insert objects, such as buildings, piñatas, and produce into the garden. It is also used to change the appearance of the Trick Stick, or perform actions such as changing all of the terrain in a garden to a different surface type such as Grass, change the Weather, change the time of day in the garden, or change the ambiance music.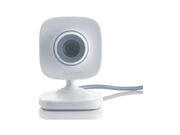 Cards can be scanned using the Xbox Live Vision camera.
Piñata Vision cards featuring characters from games in other franchises were released, such as Black Orchid from Killer Instinct. There are also seasonal cards that were released as well.
The Piñata Vision mechanic is not compatible with the Kinect camera accessory for the Xbox 360 or Xbox One consoles, and the Xbox Live Vision camera is not compatible with the Xbox One console.
Community content is available under
CC-BY-SA
unless otherwise noted.