The Parrybo is a rainbow parrot piñata. It's beak is yellow, it has three purple, and pink feathers on top of its head, its eyelids is blue, and it has chartreuse irises. Its head is red, its neck is green, it has a blue torso, and a purple belly. It has a yellow tail with pink tips, small red and green wings, and orange feet.
Friend to the grizzled sea cap'n but also a dedicated jungle, which seems to cause remarkably few issues. Tropical fruit is the key to Parrybo residence, but romancing is a whole other piratical kettle of fish. Being a parrot, this is not the kind of piñata for someone who gets headaches easily. Being loud vocally and visually, the Parrybo may seem like a bad piñata. But you would be mistaken by saying that. Its eye-catchingly vibrant colors will bring life to an otherwise dull garden.
Requirements
Appear requirements
Visit requirements
Resident requirements
Romance requirements
Species variants
In the TV Series
According to Teddington Twingersnap, Parrybo is pronounced pa-ree-bo.
Pierre Parrybo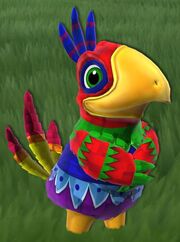 Pierre Parrybo is a major character in the Viva Piñata TV series. Pierre is a feisty, fiery, fiercely French-accented Piñata. He is a minor celebrity on Piñata Island, and he is often asked to officiate at various contests, fairs, pageants, and similar things. He also acts as a host for events such as the Party Animals Championship Challenge.
Gallery
To see all media, see Parrybo/Gallery.
Community content is available under
CC-BY-SA
unless otherwise noted.