The Moojoo is a green moose piñata introduced in Viva Piñata: Trouble in Paradise. It is the evolved form of the Doenut and lives in the Piñarctic.
Appearance
It is a medium-sized quadruped moose with a somewhat thick body, long legs, a very small tail, and long blue and purple striped antlers, which are made of plastic in the game, while in the TV Series it is made of paper. It has a purple mouth. It has purple lines over its torso which have purple and orange lines that protrude from the lines. On its legs it has purple bands with orange lines on top of the bands. The Moojoo's label is placed on its butt.
Requirements (Trouble in Paradise)
Resident Requirements
Bait Requirements
Romance Requirements
Variant 1 Requirements (Yellow)
Feeding it a buttercup changes its color to yellow.
Variant 2 Requirements (Green)
Feeding it a watercress changes its color to green.
Variant 3 Requirements (Blue)
Feeding it a bluebell changes its color to blue.
Trick Requirements
Wildcard Variants
One Large conjoined antler
Three pairs of antlers
 ???
Moojoo Uses
???
Species Conflicts
???
Requirements (Trouble in Paradise - Just for Fun)
In the TV Series
In the television series, Moojoo characters stand up like a biped creature, unlike in the game series where they walk on four legs. In addition, a Moojoo's antlers are made of plastic in Viva Piñata: Trouble in Paradise, but in the TV series a Moojoo's antlers are made of separate sheets of paper like the rest of their body.
Machi Moojoo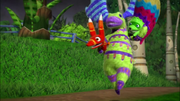 Machi Moojoo is the primary character in the TV series episode The Antlers are Blowin' in the Wind. She aims to not be sent to a party due to an embarrassing event that happened when she was younger, and teams up with Fergy and Paulie to form the "Cannon-nots", a group bent on running away from Langston.
Gallery
To see all pictures and videos about this topic, see Moojoo/Gallery.