Mabel Moozipan is a Piñata gardener. She is very strict about how her garden is treated, and isn't afraid to put matters into her own hooves. She is a good friend of Florence Fizzlybear. She can act aggressive at times especially when something endangers her life. However, she also sometimes tends to people as if she was a mother.
As a Moozipan she is able to produce Milk from her udders.
Personality
Episodes
Confetti-itis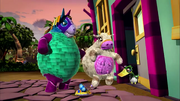 In Confetti-itis, she is the first person to meet Franklin Fizzlybear in his buff state and she asked how he got buff. He says that he got that way because he drank the "Shed-No-More" potion prescribed to him by Dr. Quackberry. She starts drinking it too, however she drinks too much of it and she becomes very fat and bloated. She becomes very annoyed by this and strangled Dr. Quackberry complaining about how his potions got her very bloated. She, Franklin, and all of the other piñatas involved had to stop drinking it to return to normal size.
To Catch A Pester
In To Catch A Pester when Professor Pester gets sent to Piñata State Prison she starts to tend for him as if she were his mother, giving him milk, food, and a milkshake.
Quotes
Feel the wrath of my giant hoe!
Doctor, you're the reason why we're in this mess. Now find the cure!
Gallery
To see all pictures and videos about this topic, see Mabel Moozipan/Gallery.