The Juicygoose is a purple goose piñata. Its beak is purple, and it has green irises. It has light lavender markings around its eyes, a pointy little tail, and purple wings with a yellow zig-zag pattern. Its body is mostly orange, with a thick pink band in the middle, and green markings dividing the colors. The Juicygoose also has purple feet.
While the Juicygoose is instinctively a sentry bird, its aggressiveness can result in tussles with the very Piñata it evolves from. It also frightens off Newtgats, making it tricky to indulge the Juicygoose's appetite. Juicygeese can be used instead of guard Barkbarks. This suggests that Juicygeese are belligerent, but in fact they just want to appear useful. Useful animals don't tend to end up roasted, with gravy... and mashed potatoes, yum!
Requirements
Feeding a gooseberry to a Quackberry turns it into a Juicygoose.
Romance Requirements
You have 100 square pinometers of water (10%).
Has eaten 2 Newtgats.
You have a fish fountain in the garden.
Have a Juicygoose house in the garden.
Species Variants
Other Information
If General Mills ever decides to turn their Gushers fruit snacks into animals, probably the first one out the production line will probably look like a Juicygoose. Rather cute with its intense purple color, Juicygeese will be a pretty cool addition to any garden. Provided it's free of Quackberrys, that is, as Juicygeese will pick fights with them almost constantly.
Newtgats will not visit your garden if one or more Juicygeese is a resident.
Juicygeese are happier when sprinkled with water.
Langston makes a comment when you buy a trap "That will almost definitely work, like Cocadile jaws on Juicygoose candy!"
Juicygoose Uses
Eating 2 Juicygeese helps meet the Cocoadile Romance requirements.
Species Conflicts
In the TV Series
J.J. Juicygoose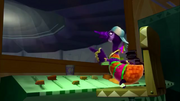 J.J. Juicygoose is a character in the TV series. He is a mix tape recorder who works for Hudson Horstachio.
Gallery
To see all media, see Juicygoose/Gallery.
Community content is available under
CC-BY-SA
unless otherwise noted.