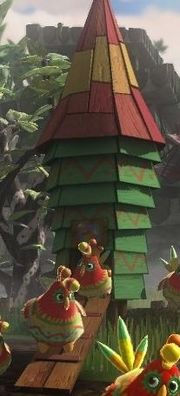 Houses are a type of building that act as a piñata's sanctuary away from predators. A house is a necessity to romance any species. Each piñata species has a different kind of house that only that species of piñata will care about and enter. When it becomes time to sleep if the garden has a house for that piñata species then the piñatas of that species will enter the house. A few piñata species such as the Dragonache and the Choclodocus do not have houses. Houses are built by Willy Builder.
When a house is built the piñatas of that species will become more happy. Houses can be tapped with the shovel to evacuate any piñatas in the house.
Community content is available under
CC-BY-SA
unless otherwise noted.