Hailey Horstachio is a character in the Viva Piñata TV series that can be played as in Viva Piñata: Party Animals. No other Piñata combines style, glamour, and spice quite like Hailey Horstachio. Always seen at the right party with the right Piñata at the right time, Hailey's already established herself as a super-chic fashion icon who sets the trend every time she steps out on the scene. She is at odds with Hudson Horstachio due to her popularity status.
Hailey is one half mega celeb, two halves trend-setting socialite, and three halves star athlete. When she's not riding around in a limousine and hanging out with celebrities on the "A"-list, she's riding around in two limousines and hanging out with celebrities on whatever list comes before "A". Hudson likes to remind Hailey that she has yet to reach the top of Piñata strata, but she is cinfident that her red-hot dance moves, swanky chic lifestyle, and extreme athleticism will propel her there soon!
Appearance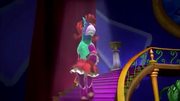 Normally, in most parts of the TV series and in Viva Piñata: Party Animals she is a blue variant Horstachio, and wears thick eyelashes, red stylized hair with a fake daisy flower, and a red hairy tail.
In some parts of the TV series episode Beauty and the Beasts she is a regularly colored Horstachio, and wears a red skirt and red stylized hair with a regular tail, despite the episode implying that she was a blue variant Horstachio in the past by a flashback of Hudson Horstachio, and the video game series establishing that it is impossible to transform back to a regularly colored piñata after turning into a variant piñata.
Episodes