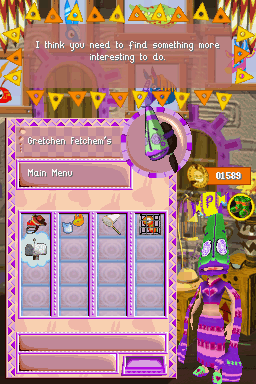 Gretchen Fetchem's is a shop that Gretchen Fetchem handles. In this store she can be ordered to find Piñatas. You can chose between Standard and Express speed. The Standard speed costs the same amount as the base value of the Piñata, while Express costs double that. After being hired to find the Piñata, she will put it in the shop, for you to retrieve. An Alert will appear as soon as she gets the Piñata. The price of the transaction is paid when you retrieve the Piñata from her.
In Viva Piñata: Pocket Paradise you cannot pay her to get the piñata faster, however instead you can chose to get up to four piñatas in her store. Unlike the home console games, she also sells Accessories for Piñatas, as well as pet Piñatas. As well, she handles the Post Office which allows you to crate your belongings and she can hold up to three crates for you in the post office. This replaces the functionality of Miss Petula and Fannie Franker respectively, who both do not appear in the game.
Community content is available under
CC-BY-SA
unless otherwise noted.