A Fudgehog is a multicolored hedgehog Piñata.
Appearance
Its face is green, and has a darker green rectangle around its eyes as if it had a mask, and it has blue irises. The rest of the body are different colors, ranging from purple, red, blue, and yellow, in the order from how far away it is from the face. Its tail is a part of its body, and it has stubby small legs.
Classic Requirements
Appear Requirements
4th night after you take over the garden.
Visit Requirements
Resident requirements
Romance Requirements
Species Variants
Feeding it a chili changes its color to red.
Feeding it a bluebell seed changes its color to blue.
Feeding it poison ivy changes its color to green.
Trouble in Paradise Requirements
Appear Requirements
Visit Requirements
Resident requirements
Romance Requirements
Evolve Requirements
Trick Requirements
Other Information
A natural predator of Whirlms, Fudgehogs will do some serious damage to your population at first. Thankfully, once they become a resident, they'll stop automatically trying to kill your poor Whirlms.
Fudgehog Uses
Feed a Fudgehog to a Bagesicle to teach it trick 1.
Species Conflicts
None.
In the TV Series
Fergy Fudgehog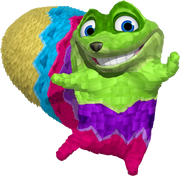 Fergy Fudgehog is a main character in the Viva Piñata TV series. He does not like going to parties and is on a constant quest to avoid Langston Lickatoad as he is here to send both Fergy and Paulie Pretztail to a party.
Gallery
To see all media, see Fudgehog/Gallery.
Community content is available under
CC-BY-SA
unless otherwise noted.