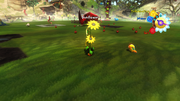 A flower is a type of plant that can be grown in the garden. There are many kinds of flowers, including the Bluebell, the Sunflower, and the Daisy.
Usually, each flower will have one flower head. Applying Fertilizer will generally make the plant grow multiple flower heads. Flower heads can be eaten by Piñatas. Flower heads will automatically detach from the plant after a certilain amount of time and kill the flower. They can also be knocked off manually by tapping the flower with the shovel. When no more flower heads are left on the flower the plant will automatically die.
There is a sub-type of flower called the water flower. All water flowers must be planted in mud which is generated by water created by using the Shovel to dig up ground.
In Viva Piñata: Pocket Paradise, water flowers must be placed directly in water, and do not need to be watered.