The Fizzlybear is a big bright orange grizzly bear piñata. Its head is brown, it has yellow and purple markings around its eyes, and it has green irises. It has a purple, tiny, stub tail, and purple leg markings, like that of a Giant Panda. It has an orange band around its belly, its lower back is yellow and it has a purple pattern on its hind legs. The Fizzlybear also has a pattern of brown and orange hexagons on its back.
Classic Requirements
Appear Requirements
You are a level 30 gardener or better.
Visit Requirements
Resident requirements
Romance Requirements
TIP Requirements
Appear Requirements
Unblock Requirements
Have enough Sweetooths to gnaw through the fallen tree. (Should take 5).
Visit Requirements
Have 4 Prickly Pears in the garden.
Have 3 jars of honey in the garden.
Resident Requirements
Has eaten 2 Raisants.
Has eaten 2 jars of honey.
Has eaten 2 prickly pears.
Romance Requirements
Species Variants
Feeding it a sunflower seed changes its color to bright gold.
Feeding it a carrot changes its color to orange.
Feeding it a watercress seed changes its color to green.
Other Information
The Fizzlybear makes an appearance in the opening video of the game, and I'll tell you, that shaky dance it does is pretty freakin' disturbing. That aside, Fizzlybears are pretty easy to get a hold of and keep, but they're not that valuable in the long run and bring no special benefits.
Fizzlybear Uses
None.
Species Conflicts
None.
In the TV Series
Franklin Fizzlybear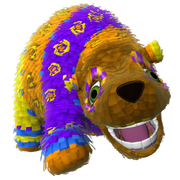 Franklin Fizzlybear is a main character in the Viva Piñata TV series. He likes surfing, and he is a terrible liar. He also likes parties.
Gallery
To see all media, see Fizzlybear/Gallery.
Community content is available under
CC-BY-SA
unless otherwise noted.