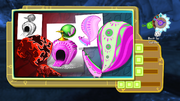 Concept art is a gameplay mechanic of Viva Piñata: Trouble in Paradise. Concept art can be unlocked by repeatedly taking pictures of an object such as a Piñata using the camera, or by scanning an unsupported Piñata Vision card to unlock a concept art picture. When an item is detected by the camera, it has a chance of unlocking a concept picture for that item. Not all objects have concept art available. There are 139 concept art images available to unlock in the game. Once a concept art picture has been unlocked for the first time, a new section in the Journal is unlocked as well and the Master Candied Camera Achievement is unlocked for the player.
Gallery
Community content is available under
CC-BY-SA
unless otherwise noted.