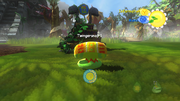 A cocoon is a shell for a Piñata changing from a baby to an adult, or from a sour to a regular one of the species. Not long after a baby piñata hatches (disregarding the ones like the Dragonache and Choclodocus which require certain conditions to be met to grow up), a cocoon will form, and after some time the cocoon will break and the adult piñata will come out of it. Adult piñatas are able to Romance to produce eggs. Sour piñatas will not enter cocoons by themselves, intervention is required to first meet requirements for turning a sour piñata into a regular piñata.
Gallery
Community content is available under
CC-BY-SA
unless otherwise noted.