For the regular variant of the Cocoadile, see [[]].
The Cocoadile is a green crocodile piñata. Its irises are orange. Its mouth is incredibly long, much bigger and longer than its back, with white teeth jutting out even when its mouth is fully closed. It has red markings on its head, back, and lower body. Its lower body is a slightly lighter shade of green. Its small legs are placed close to each other on its back, leaving its large mouth to stand up with little support from the legs.
The Cocoadile can be directed to fertilize plants using Cocoadile tears. This is required to unlock an Achievement in Viva Piñata.
Requirements
Appear Requirements
Visit Requirements
Resident requirements
Have 190 square pinometers of water (19%).
Has eaten 3 Quackberries.
Romance Requirements
Have 220 square pinometers of water (22%).
Has eaten 2 Juicygeese.
Has Gold Teeth
Species Variants
Other Information
Due to a misspelling, it says that for a wild Cocoadile to visit you need 5 Quackberries when you really need 6.
Due to a misspelling, it says that to tame a sour Cocoadile it needs to eat 2 Swananas when it really has to eat 1.
Likes to be watered with the watering can.
Cocoadile Uses
If you direct the Cocoadile to certain plants, it will fertilize them with its tears (earning the player an achievement). This can be done 3 times on plants (excluding trees and bushes, only once on trees and bushes) and vegetables for maximum value.
Species Conflicts
None.
In the TV Series
In the TV series, Cocoadiles stand up in a stance that makes them look like they have a pot belly. Their bodies are also longer.
Cecil Cocoadile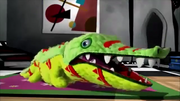 Cecil Cocoadile is one of the major characters of the Viva Piñata TV series. His tears were used to water and fertilize Chortles Chippopotamus' garden.
Gallery
To see all pictures and videos about this topic, see Cocoadile/Gallery.
Community content is available under
CC-BY-SA
unless otherwise noted.