Cliff Dragonache is a character in the Viva Piñata TV series.
He was the child of Carol Cluckle and as such she thought that he would be another Cluckles, and named him as such (with the first letter of his name the same as the first letter in her species name, Cluckles). However, he wasn't actually a Cluckles, but in actuality he was a Dragonache.
Episodes
Bringing Up Cluckle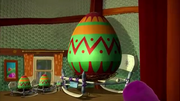 He was hatched from a giant egg in Bringing Up Cluckle. He thought he was a Cluckles just like his mother and two, but his sibling annoyed him by saying that he's a Dragonache. This caused him to become enraged and thus caused him to attempt to fly like a Cluckles to prove he was in fact one.