For the game mechanic, called "Happiness" in other games, see Happiness Rating.
For the television series episode, see Candiosity (episode).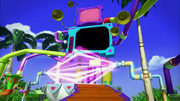 Candiosity is the amount of candy a Piñata has. It can be increased by eating more Candy. When full the piñata can be sent to a party to be bashed up.
The Candiosity level of a piñata is scanned by the Candiosity Meter installed near the Cannoñata. The Piñatameter can also scan the Candiosity level of a piñata.