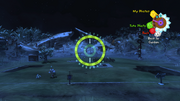 The Camera is a gameplay mechanic in Viva Piñata: Trouble in Paradise. It is used to take pictures of the garden. Objects such as a Piñata will automatically be detected when the picture is taken, and up to three items will be detected. Pictures could be uploaded to VivaPinata.com but the website has since been shut down, preventing pictures from being able to be uploaded. It was also able to turn an item into a card for Piñata Vision, which could then be scanned by other players to place the item in a garden, though this functionality has also been disabled. Items turned into a card would disappear from the garden.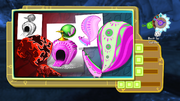 Concept art can be unlocked by repeatedly taking pictures of an object such as a Piñata. When an item is detected, it has a chance of unlocking a concept picture for that item. Not all objects and piñatas have concept art available.
Community content is available under
CC-BY-SA
unless otherwise noted.