The Badgesicle is a purple badger piñata. It has a long, pointed snout, with a round black nose on the end. It has a bold white line down the middle of its head, violet eyelids, and amber irises. It has a white underside, yellow ears, and a pointy little tail with white on the bottom. It has 2 yellow stripes, and yellow markings down its side.
These crusty old fellows don't look so friendly, but don't be fooled - they're only as sweet as any other Piñata on the inside. Maybe that's because they use those sizeable snouts to scope out only the sweetest treats to eat!
Requirements for Classic
Appear Requirements
Have 2 nocturnal residents in the garden
TIP: Have a blackberry bush growing in the garden
Visit Requirements
Resident Requirements
Romance Requirements
Has eaten 1 Squazzil
Has eaten 2 tulip seeds
Have a Badgesicle house in your garden
TIP: Has eaten 1 Lemmoning, 2 tulip seeds and have a Badgesicle house in the garden
Species variants for the Badgesicle
Feeding it an apple changes its color to red.
Feeding it a bluebell changes its color to blue.
Feeding it a jar of honey and a water lily changes its color to fuchsia and yellow.
Requirements for Trouble in Paradise
Appear Requirements
Visit Requirements
Have 3 Geckie residents in the garden.
Have a blackberry bush growing in the garden.
Resident Requirements
Romance Requirements
Trick Requirements
Species Variants
Feeding it a Bluebell flower will turn it blue.
Feeding it an Apple will turn it red.
Feeding it a Water Lily flower will turn it yellow and pink.
Species Conflicts
Eats
Eaten By
Rivals & Hunting
Other Information
High up on the food chain, Badgesicles are large and somewhat valuable. Nothing exceptionally unique, however.
An in-game rumor from Leafos claims that when a Badgesicle swims in water, it will turn into a Sweetooth. (False)
In the TV Series
Beverly Badgesicle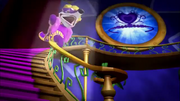 Beverly Badgesicle is a major character of the Viva Piñata TV series. She is a big fan of Hudson Horstachio and is very obsessed with him.
Gallery
To see all media, see Badgesicle/Gallery.
Community content is available under
CC-BY-SA
unless otherwise noted.