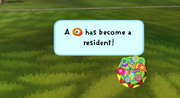 Alerts are pop up messages that appear after an important event occurs. Alerts will appear in the bottom right corner of the screen as an icon, and also showing a basic description of the alert for a few seconds. These icons can be selected to open the associated full description of the alert. Some alerts deemed important enough will automatically open as a modal popup and pause the game. Alerts opened by the player will not pause the game. Alerts will disappear over time and can be dismissed manually so the icon no longer appears. Only eight alerts will show up at once on the alerts panel, if more than eight alerts pop up at once the first alerts will be automatically dismissed.
In Viva Piñata: Pocket Paradise alerts appear in an Events Window that is located in the top left corner of the Top Screen (or Touch Screen if you've switched the screens). Up to fifteen alerts will be stored in the window. You cannot view a fuller description of the alerts. The alerts will not fade away and cannot be dismissed, as they only disappear after 15 more alerts are displayed, or after exiting the garden which causes all of the alerts to be removed. The Events Window will show a cut-scene where a piñata is shown to either appear in the surroundings of the garden, become resident, change into the variant color, or evolve if that is the first time you performed the respective action for a certain species of Piñata.
Community content is available under
CC-BY-SA
unless otherwise noted.